Taman Puring bukanlah taman secara harfiah. Sejak eksis di tahun 1960 silam, Taman Puring adalah sebuah pasar. Selama bertahun-tahun, pasar ini sempat menjadi pasar gelap alias pasar barang-barang ilegal. Antara tahun 1980-1990an, pasar ini makin dijauhi masyarakat karena menjadi sentra barang-barang hasil tindakan kriminal.
Sejak terbakar pada 2002, Pasar Taman Puring perlahan berbenah diri hingga sekarang menjadi destinasi belanja akhir pekan favorit warga Jakarta.
Ada ratusan kios sepatu pria mulai dari sepatu kulit, sepatu gunung, sepatu futsal, hingga sepatu gaul khas anak muda. Beragam merk mulai dari Adidas, Caterpillar, Nike, Karrimor, Vans, hingga Converse tersedia dalam berbagai model dan warna.

Yang membuat pasar ini diminati adalah harga barang-barang yang miring. Sepatu gunung merk Caterpillar misalnya, dibandrol seharga Rp 350.000 saja. Harga aslinya bisa mencapai dua kali lipat!
Sepatu kulit kualitas bagus rata-rata seharga Rp 450.000. Sementara sepatu merk Adidas rata-rata seharga Rp 200.000, dan sepatu Converse rata-rata Rp 145.000.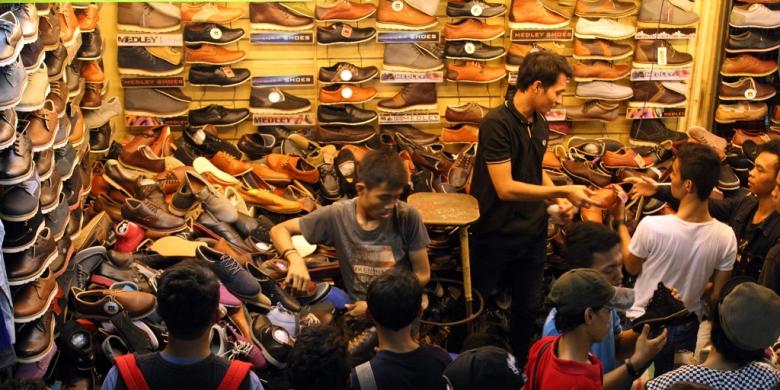 Tidak hanya menjual sepatu tapi juga dapat ditemui, tas, pakaian olahraga, jam tangan, dan juga suku cadang mobil.
Harga yang relatif murah ini dikarenakan barang-barang yang dijual memang bukan asli. Kebanyakan barang yang dijual di sini adalah KW, atau kualitas di bawah barang asli. Namun, kualitasnya bagus dan tentu saja buatan negeri sendiri! Walaupun didominasi oleh barang-barang khusus lelaki, pasar ini juga menjual barang khusus wanita. Ada tas, sepatu, hingga beragam aksesori seperti gelang, kalung, dan jam tangan. Beberapa kios juga menjual 'sepatu cantik' seperti flat shoes, wedges, juga high heels.
Tawarlah Setengah Harga
Beberapa pengunjung juga memberi saran untuk menawar setengah dari harga yang diberikan yang diajukan pedagang, kecuali pedagang mengatakan "Harga Pas" saat ditanyakan harga. Beberapa pedagang di Pasar Taman Puring terkenal memiliki temperamen yang kurang baik.
reference : http://travel.detik.com/read/2012/03/16/132636/1869156/1025/yuk-belanja-...
Important Information
Category
Wholesale Markets
Address
Jl. Kyai Maja, RT.7/RW.1, Kramat Pela, Kby. Baru, Kota Jakarta Selatan, Daerah Khusus Ibukota Jakarta, Indonesia
Related Places
Pusat Grosir Block A-B Tanah Abang

Jakarta has a number of wholesale markets. The largest and the oldest is the Tanah Abang Market which concentrates on textiles. From morning till night, trucks laden with textiles arrive and leave the area. Besides the new Tanah Abang buildings there are scores of smaller shops all selling any and every kind of textiles you may be looking for.

Thamrin City

This mall is an air-conditioned extension of the busy Pasar Tanah Abang, situated just behind the Grand Indonesia near the Hotel Indonesia Circle. This is another shopping center selling Batik products and creations from all over islands of Indonesia. Here you will find not only batiks from Yogyakarta or Solo, but also from Pekalongan, Lasem, Madura, Palembang even Batik Papua.

Other kind you may also find here are wonderful woven textiles, songket and lots, lots more also in ready to wear type, accessories and more

Mangga Dua

The Mangga Dua area is a little further from Pasar Baru, offers a whole range of imported goods from China, Korea, Thailand that are sold at reasonable wholesale prices, from dresses to bags, jeans, accessories, souvenirs, just name it, they have it.